Posts Tagged Aura
Here is a video of Aura's puppies at 3 days old!
Read more

→
All puppies are doing great today. All puppies are gaining weight. Aura is eating lots of food- Royal Canin GSD 30 Puppy Food, plus an egg and cottage cheese, and a tiny bit of pumpkin for fiber. Aura is producing plenty of
Read more

→
Almost all of the puppies were born 5/31 after 4PM and 6/1 by 6AM. Here are the puppies, 6/2/2013 in the middle of the afternoon. As you can see, Aura has been cleaning up and is rested up. She's been eating great!
Read more

→
Just a small update on the upcoming German Shepherd Puppy litter: We're on track for whelping around June 2. We will begin accepting deposits around June 14. We just added a puppy FAQ to the puppy page. Aura is lying around a
Read more

→
In case you were wondering what a pregnant German Shepherd looks like, here is Aura's baby bump. She is approximately 37 or 38 days in. The stomach feels very "full". Completely different than usual. She's rationing food out throughout the day. I
Read more

→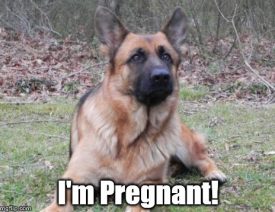 Well, the moment that we have been waiting for is here. A sonogram at NCSU today proved Aura is indeed pregnant. Keep up to date on our puppies page.
Read more

→