This website initially began as HektorHaus.com, home of Hektor Haus German Shepherds.
All Hektor Haus website and blog content is here on this site under the blog category Hektor Haus.
Some content, such as pages and pages of puppy growth and updates, will eventually be condensed into single, large articles for easy viewing.
What was Hektor Haus German Shepherds?
In 2012, I had sold off an IT company. I had time and money. I brought over Aura from Germany. After nearly a decade of research, I wanted to breed a litter of puppies. Due to the amount of money it would cost and bring in (not profitable) I would need to report the income (and expenses) to the IRS. Having been self employed for quite some time, I've already "suffered" various audits. Anyways, the business needed a name so I called it Hektor Haus, after Hektor, the "first" German Shepherd. My goal was to produce pups along the SV breed standard lines. My mentor who helped me acquire Aura was Toni Brezel. I used one of her awesome KKL1 studs as the sire, and the "A litter" was born. A year later, I would have the B and finally the C litter.
In 2017, I renamed all of our web properties such as YouTube and Facebook from Hektor Haus to AllAboutShepherds.
This is what the most recent HektorHaus.com website looked like after I had "rebranded" it as "Hektor Haus German Shepherd Lovers":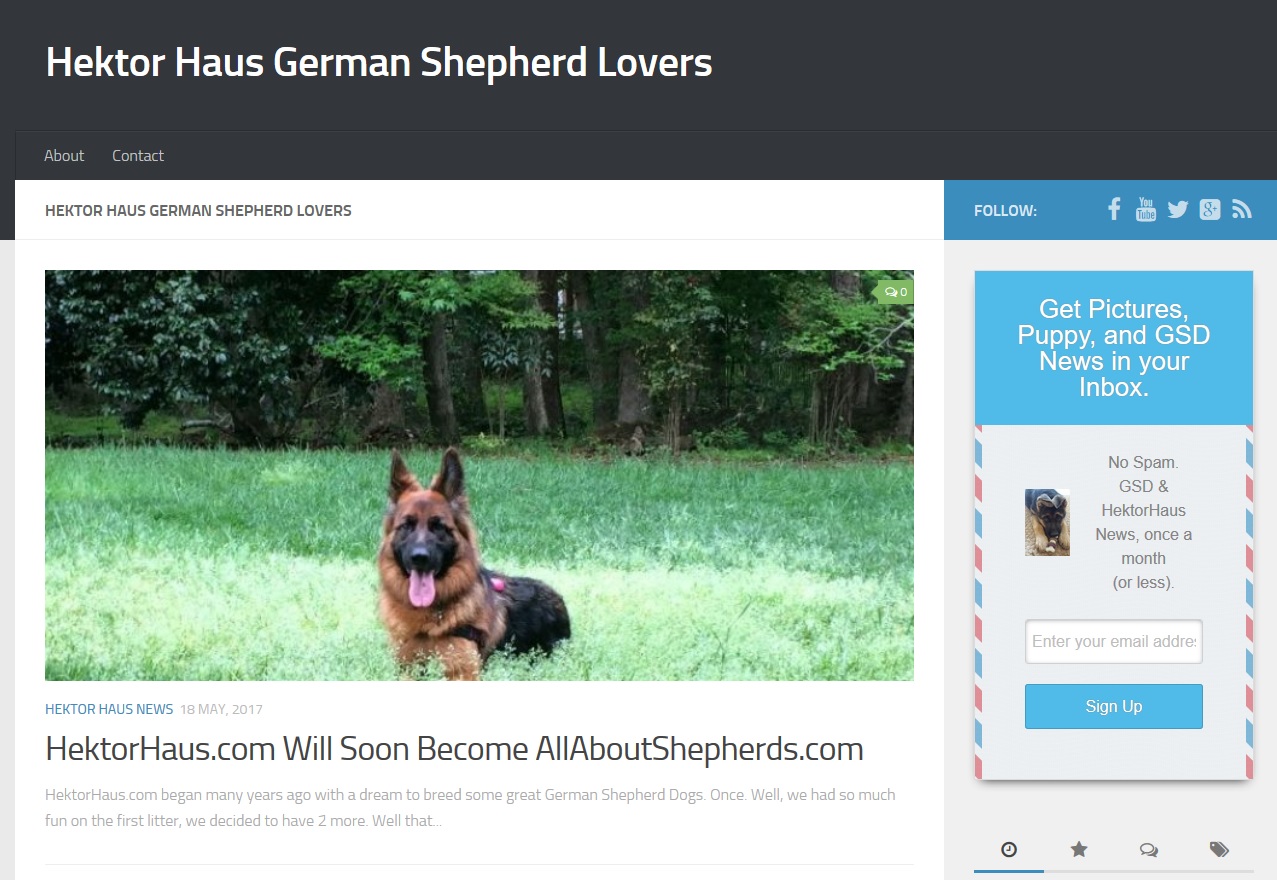 This is what the original site looked like, circa 2014:
No more puppies
Raising puppies was a blast. And a lot of work. Thankfully, my other business ventures are profitable enough and I have no more time for puppies. I learned a lot. And I hope to share that with people along with German Shepherd News here on allaboutshepherds.com. I am not the expert, I am just someone who has owned GSDs and loves them.
Hektor Haus News:
October 2017: Hektor Haus German Shepherds became allaboutshepherds.com. (Throughout 2016 we had been calling it "Hektor Haus German Shepherd Lovers")
March 19, 2015: Despite nationwide demand, we are done breeding Aura. She is only 4 but we know that we've been lucky and our instincts tell us it is time to stop.
February 26, 2015: The C Litter is Sold Out
February 25, 2015: Our final pup is ready: see her here.
December 17, 2014: The C Litter was born. See how it went down in the live blog.
November 12, 2014: A sonogram at NCSU Veterinary Clinic has confirmed that Aura is pregnant! We are expecting puppies around December 18, 2014.
October 18, 2014: Aura had a perfect and natural breeding with the stud.
October 9, 2014: We are considering breeding Aura and producing a third and final litter, the C Litter.
September 2014: We just found out that Aura's littermate and sister took a first place at the international GSD show in Germany and is a world champion!
January 31, 2014: The B Litter is now Sold Out.
November 22, 2013: The B Litter has arrived.
November 19, 2013: Our first GSD, Fina, passes away. This article remembers her and her best friend, Buddy.
October 25, 2013: A sonogram at NCSU Veterinary Clinic has confirmed that Aura is pregnant with a B Litter.
July 17, 2013: A huge update with pictures of the (9) A Litter Puppies (must see) (cuteness overload).
April 25, 2013: Aura is pregnant with our first litter, the A Litter!
February 17, 2012: Aura has arrived in the United States.