To C or not to C, that is the question. Aura is currently in heat and we are considering 1 more litter.
The first litter was a bucket list item for us. We had always wanted to produce a fine litter of German Shepherd puppies. When our last family owned business was sold in 2012 we had the time and money to have a litter. We flew Aura over from Germany. She was 18mos old and very well trained for show and protection. We spent the summer housetraining her and getting her used to family life. We went on vacations together. Aura went to New York, Baltimore, DC. She went to the beach. She went camping on the St. Lawrence River.
I considered training Aura in the fall. When fall came I became sick. I was very healthy and had not even been to a doctor in 17 years. I was a healthy 6'2, 250lb, 35yr old man. A rare parasite made its way into my food which I ingested. One Saturday night, I started shivering. I took my temperature and it was 103. I went to bed. I sweat. 4 days later I was still sick. Over the next 3 months I would lose around 25lbs and sleep over 16 hours each day instead of my normal 6hrs while the doctors performed a plethora of tests on me. After searching the Internet my mother in law and I came up with several things I should be tested for. Various forms of cancer. Leukemia. What was it? I was too weak to drive a car. It sucked. It turns out it was Toxoplasmosis. Eventually antibodies were formed which killed this off- no doctor required. The illness still took a solid 4 months away from me.
When I was recovered, not wanting to waste any more time we produced our first litter. Aura had 9 puppies. It was a lot of work and consumed our summer of 2013. Aura was a very expensive dog. Between that and buying tests, paying stud fees, and investing our time we lost money producing the first litter. And these are expensive pups. But, we were never in it for the money.
The A litter feedback was amazing. In the fall, we produced a B litter. This time Aura had 7 puppies. 7 pups are SO MUCH EASIER to take care of than 9 puppies. Instead of a nightmare it was a dream come true.
All 16 puppies are beautiful. Here is the green collared puppy from the B litter. His call name is Miller and he now resides in Charlotte.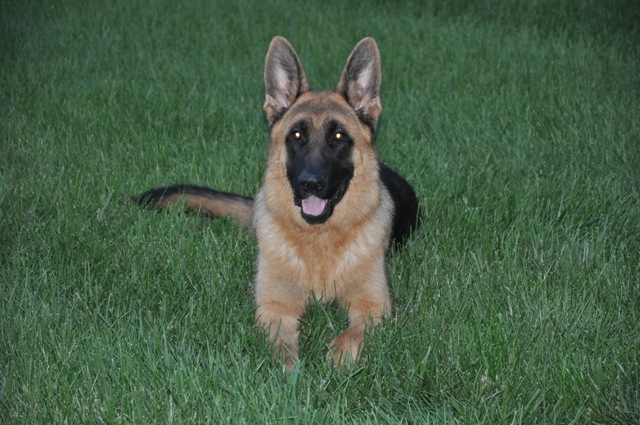 The pups are everywhere. Raleigh, Charlotte, the beach, New York, California.
A few days ago I received news that Aura's sister and litter mate Ayda performed in the world championships in Germany. She took top prize. Yes, her twin sister is now a legend and world champion title holder. Wow. It still hasn't sunk in all the way. This means she is not only perfect structurally but she also has amazing temperament and has achieved this status through hard work and training. Congrats Ayda!!! Here is Aura's sister Ayda: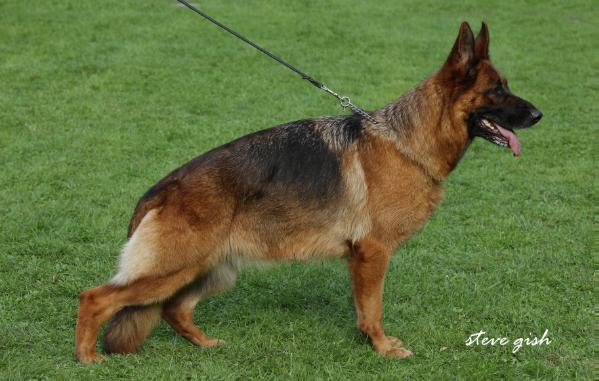 As you can see, Aura, sister of the world champion, paired with Ando, one of the North America's top dogs, produces some absolutely outstanding puppies. Here's Ando: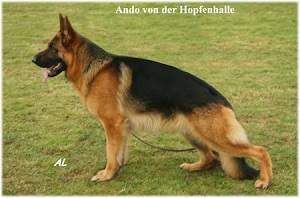 Here is a pup from the B litter:
If you have been following this blog at all you also know what outstanding care these pups get. I have yet to meet anyone that goes through the lengths we do. A breeder of 30yrs got her pup home from the A litter and was just amazed. She called me daily for 2 weeks to tell me she had no idea why or how her new pup was so fearless and confident. Here's why:
Aura is treated for parasites before the pups are born- this is because, while pregnant, that is when a parasite can go to the pup. In the chance she had one in her, this prevents the pup from ever getting it. Of course, pups are given dewormer as recommended by the top veterinarian clinic in the southeastern United States @ NCSU.
The pups are raised indoors, and are used to all sorts of noises; this doesn't sound important but it is gigantic. All of the pups leaving here will be so confident at 8wks of age. Any time they show any sort of fear we completely ignore them.
The pups are handled daily by us. We have 2 adults and 2 children in the house. By 8 weeks of age they are 50% potty trained.
To potty train them, I run them outside after every meal and every nap and give them verbal praise when they go potty. No other potty training is done. They have a genuine desire to keep their area clean, but their bellies are so tiny, when they have to go, they go. There is an immense amount of cleaning that takes place in the house from 4 weeks of age – 8 weeks of age!
We also have crates we put in their area for them to play with. The pups go nuts over the crate. The door is always left open. They fight over who gets to go into it and they take turns sleeping in it all day every day. They are den animals and love their crate. Never use a crate as a punishment- it is their safe place. When they go home, they can usually be crate trained in under 10 minutes. This is huge for potty training! Pups should not be crated too much though. At first, during the night, they will need to get up at least once. By 10 – 12wks of age they will be able to hold it for 8hrs, and then in the day they should only be crated for a couple of 1 – 2 hr intervals at the very most. Always make sure the crate is a happy place and allow them to feel like they own it and can use it as they wish. Aura is 4yrs old and still goes over and hangs out in hers- we just leave the door open for her.
They come from a long, long line of very high end, proven GSDs. These are "West German Show Line". Sometimes the show line gets a bad rap. Not these dogs. They are bred 100% to standards of the Schäferhunde in Germany which sets the breed standard. These are a completely different breed of dog than the American Line shepherds. They cost more and look better than any other line of shepherd.
Aura is a great mom. It is amazing to see her give birth. The pups come out and she chews off their umbilical cord, eats their placenta, and cleans out their air passage ways, then, the pups lift their head into the air and sniff for milk and make their way over to Aura's nipples. They crawl over like little sea turtles. They are deaf and blind the first 2 weeks of life. Then, they can see, and hear us. They are with humans from day 1. In fact the first week of life I sleep beside their whelping box, listening for any yelps or muffled whines. They really don't need me, but occasionally one will get their leg stuck in their collar or Aura will roll over one of them. We weigh them daily and track their progress and compare every pup against one another to make sure they are all gaining weight. The second litter was a breeze- on the first litter we had to give two of the smaller guys a helping hand and make sure they got their turn.
All of the pups have turned out to be great family members. One is in professional training, and 1 or 2 are in training to be companion dogs at medical centers, and the other 14 are just family members. I don't say family member as a dog fanatic- this breed really IS a family member. If you are just looking for "a dog" to sit in your back yard and bark when someone shows up at your house this is totally not the breed for you.
Right now we are considering having the litter. If we do, the current time table looks like this, and this is estimated:
October 16, 2014: Breeding of Aura & Ando
December 18, 2014: Puppies are born
December 20, 2014: Downpayments are accepted
February 11, 2015: Puppies get full evaluation at vet, vaccinations, microchip
February 12, 2015: Puppies go home
We will have more news on the C litter shortly, so stay tuned!
Aura with her last litter: