Below you will find a word on food and treats:
Before they went home:
We introduce various supplements to mom while she is pregnant, such as eggs, puppy food, cottage cheese, etc. She also gets various vaccinations as prescribed by the Doctors at NCSU to maximize antibodies n her colostrum. During and post whelping she gets various supplements as well.
The puppies are on her milk for the first 2 – 3 weeks and then get introduced to Royal Canin Maxi Starter. We simply follow the directions on the back of the package for proper amounts of food to be given.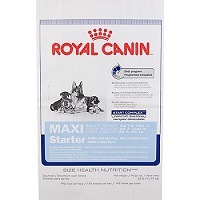 Be sure to soak food in water 30 minutes prior to feeding.
At week 7 we start to mix the maxi starter and "German Shepherd Puppy 30" in with eachother and by 8 weeks they are on the puppy food.
Puppy & Dog Food:
When you take your puppy home, they should be eating German Shepherd Puppy 30. They can stay on this until 15 months of age.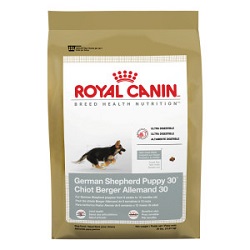 After that, we recommend German Shepherd 24.
If you plan on switching your puppy's food, please make the change gradually and ensure the new food does not contain wheat. Cheaper foods have ingredients that change often and the package may not reflect the correct ingredients for months. Their food does not follow the same guidelines which the FDA has in place for food for human consumption.
If you choose a raw diet please study up on this. It is not as simple as it sounds.
Do not overfeed your puppy. If you want a "thick" dog please wait until they are 2yrs old and their joints and bones are developed. These dogs are NOT meant to be fat and you will absolutely weaken their hips, elbows and other joints by having a fat puppy. Aura is a 71lb female. She does look nice and healthy at 76lbs, but we try and keep her at 71- and there is a noticeable difference in her entire "aura".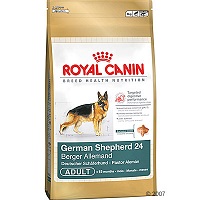 Royal Canin products are available at Petsmart, Petco, some local vets and feed stores and at PetFlow.com.
Treats:
Treats can be tricky. Our dogs are often motivated by praise or a piece of kibble. Other dogs are motivated by a toy or a treat. When we do use a treat we prefer a natural treat, such as a small piece of steak, cheddar cheese, or a liver treat. Again, avoid wheat.
Do not give your GSD any form of junk food, bread, and especially no large quantities of fatty foods, which can easily result in Pancreatitis.