This week I bumped into an article which is getting a little media attention, at least in Kansas City. The article made me sad and mad but it at least has some sort of a happy ending.
According to the Kansas City Star, a woman named Julie Bernet is allegedly a well known abuser of animals. She was arrested in 2015 when police discovered starving dogs which turned to cannibalism (I didn't even know canine cannibalism was a thing until reading this terrible news story).
Apparently, in January 2018, German Shepherd lover Maris Ewing was called by Julie's family members to take custody of Julie's animals after another arrest. When Ms. Ewing arrived to obtain the dogs she was shocked and horrified to see the condition they were living in.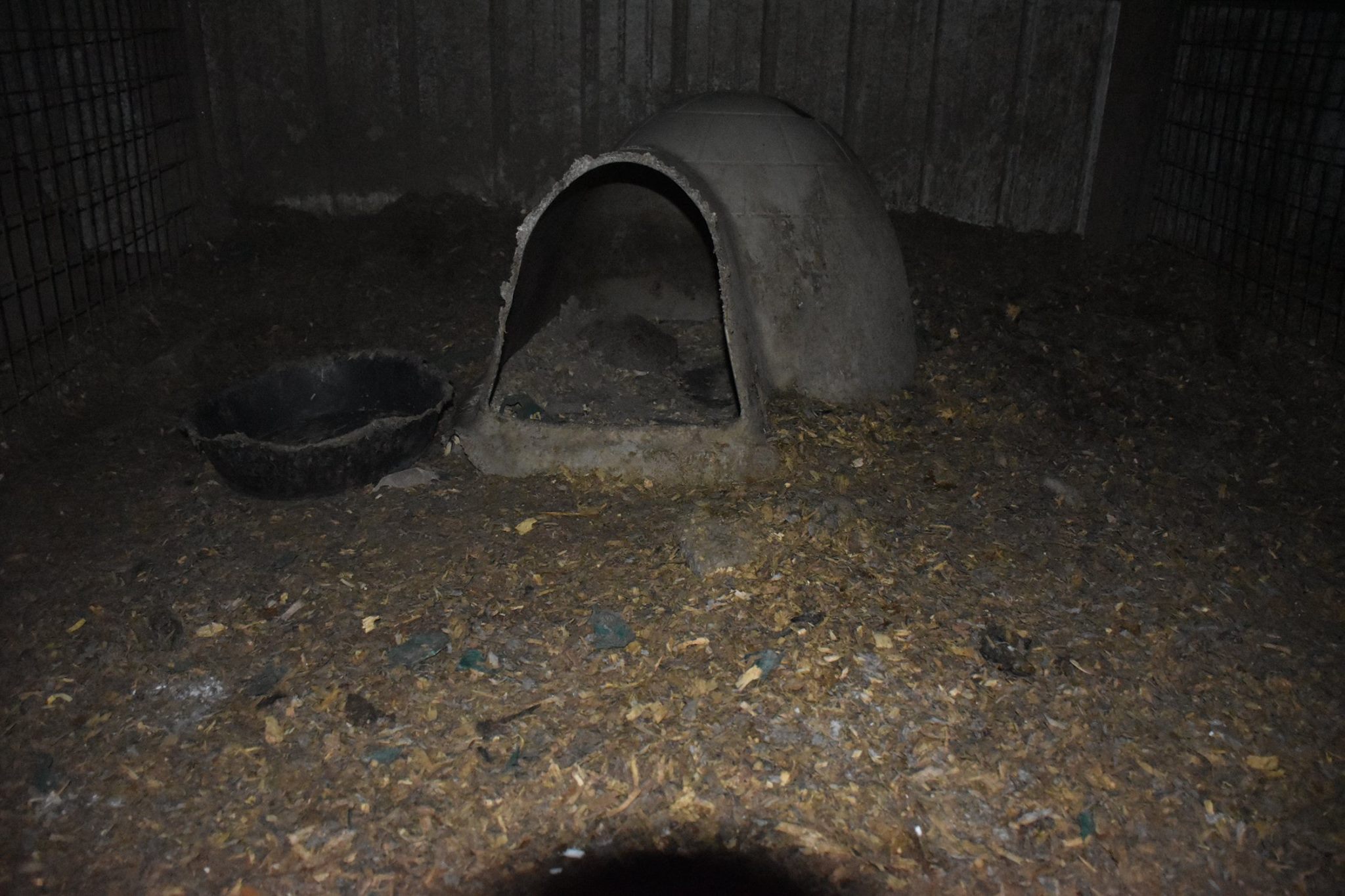 Here's one of the dogs: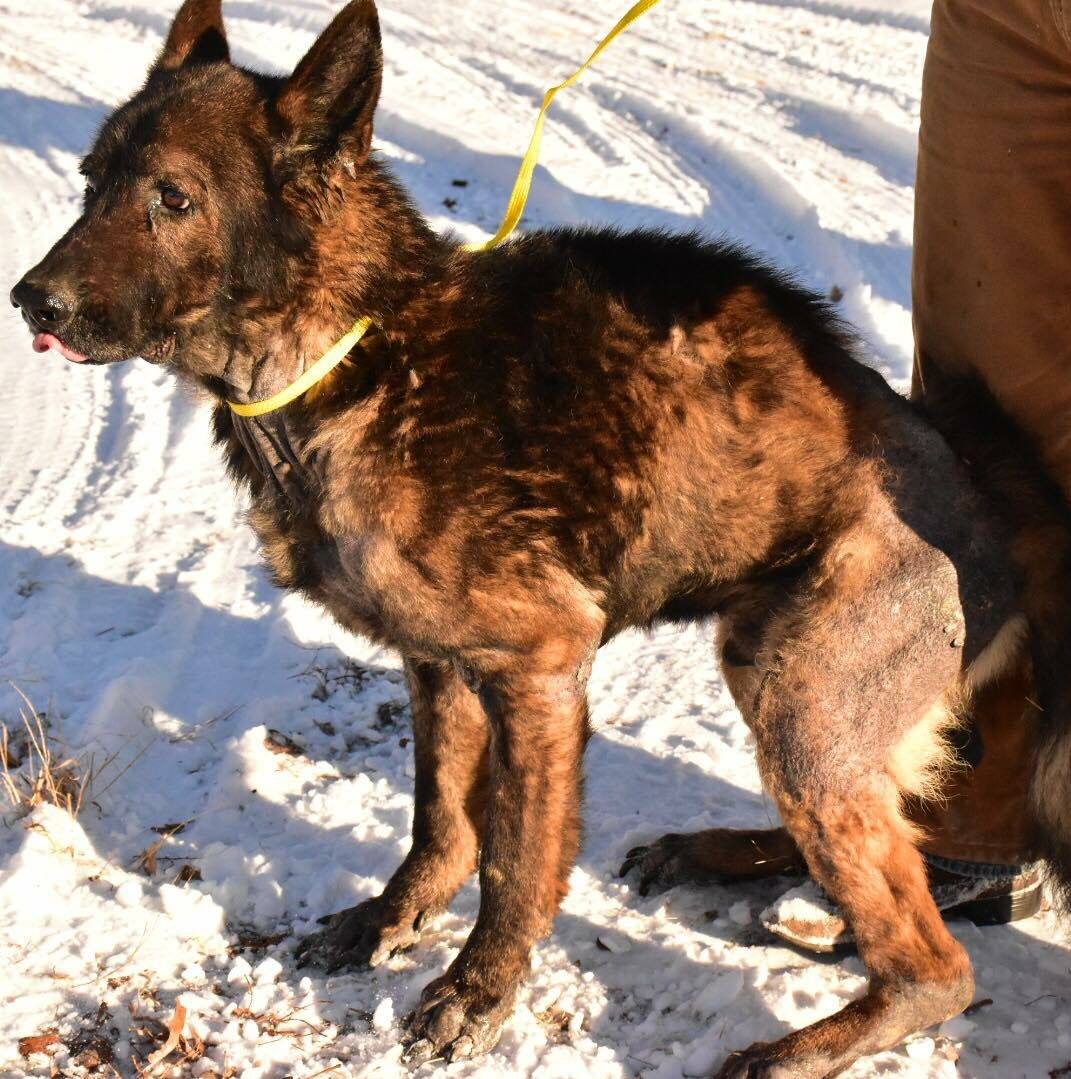 Thankfully, Ms. Ewing rescued the dogs from the torturous conditions.
14 dogs were rescued near Lake of the Ozarks, Missouri. Ms. Ewing nicknamed the 14 dogs "The Ozark 14". The Ozark 14 have a dedicated Facebook page. BTW the images used above are from The Ozark 14 Facebook Page.
A Facebook post sums up what The Ozark 14 are. It reads:
We just wanted to take the time to reach out today and thank the community for the outreach we have received over nearly 2 weeks now. The donations, sharing of our post and story, and even the kind words to keep our spirits up! I just cannot believe we are really doing this on our own!

We were scared to take on this task on our own, but we knew we had to because these animals needed someone who understood them. As I am sure all of you are aware that 11 dogs, 2 horses, and a goat are quite expensive to take care of when we are talking about feed bills alone. Not to mention bringing them back up to health after potentially years of neglect.

I wanted to share the story here on the page, for those who may have missed it elsewhere.

In 2015 Julie Bernet was facing 9 animal cruelty charges for the neglect of her German Shepherd Dogs.
http://fox4kc.com/…/9-animal-cruelty-charges-filed-against…/

Julie was going to courts and finally was found guilty of her crimes against these animals in 2017, 3 years after her dogs were discovered in horrific conditions, and 3 dead dogs found on her property, with dogs half eaten because the ones still alive were starving.

Now we know, that even though the dogs from the Stilwell, KS property were seized in November 2014, there were a remaining 11 dogs that we saved on Monday January 15th, plus the other 5 that were saved from another rescue. Julie ran from the law in Johnson County, KS thinking her misdemeanors wouldn't follow her across state lines. She continued with the exact same behavior that got her in trouble in the first place.

Julie (Leoni) Bernet posed as a good breeder, she had a friend invest in importing these dogs from the Czech republic bred by top dogs in the country, and whelped the litters here in America. These were expensive dogs! The dogs lived through what we believe to potentially be years of hell with a truly cruel individual exploiting them for breeding purposes as well as a status symbol for her. All for Julie to earn some "easy" cash selling working line German Shepherd Dogs and look like a somebody.

While Julie Bernet is an example of a nightmare of a German Shepherd Dog breeder, two other German Shepherd Dog breeders with years in the breed stepped up, to save these dogs. Not all breeders are bad, not all people are bad, there are always bad people in every single corner of the world, but there is also a lot of good.

We hope that this story of these rescued dogs, who lived through such abhorrent conditions, helps open up the eyes of the public to a few things. The message we hope to convey to our readers is.

-Responsible breeding is a very complex thing to do, and it's important to get to know the breeders you are interviewing. Go to their homes, see how their dogs are kept and the condition they are in. Review the paperwork of their health testing and titles with your own eyes. See how the puppies are raised and socialized. If the person gives you weird vibes, talk about it, or go somewhere else. Not only that, but a breeder who understands the very intimate behaviors of the breed, and making sure they are pairing parents that will strengthen each other for constant improvement for the breed. Not someone who is just breeding dogs to make puppies.

-The law needs to be more harsh on people who demonstrate the behavior we are seeing towards these animals, and mostly the dogs. Abuse, neglect, starving dogs, going years without any veterinary care for serious health issues, kept in filthy conditions. 3 dead dogs found in her yard and all she gets is 11 concurrent counts and has to serve them at the same time (meaning 1 year). These dogs should not have had to endure any more neglect after the first time she was caught doing this.

-Julie (Leoni) Bernet's name should be spread as far and wide as we can ever manage to make it go, so that she may never have a chance to harm an animal ever again.

-These dogs have no voice, and have no choice, we need to be their voice! If you see something off, bad conditions, you need to call someone! Take photos, take videos, take notes, write down dates, call the police, call animal control. Even if nothing is done about it right away, make an effort. Because those animals lives depend on it!

Julie Bernet is not the only monster who has done this to animals, and she will not be the last. Where the law has failed these animals, we hope to have at least, finally given peace to the last of the animals that Julie Benet was keeping. But the battle still goes on, while we look to the law to pursue harsh punishments for this behavior. To hopefully make an example out of her, and help discourage others from doing this.

Please share the story of the Ozark 14. There is so much to put into one post to share their whole story. But this covers the important aspects of it.

We again thank everyone for everything they have been able to offer to help these animals in need. We are extremely busy handling all of the vet visits, house calls, medication, food, surgeries, of these animals.

If you are interested in helping
The veterinarian providing medical care for the dogs is Lake of the Ozarks Animal Hospital in Linn Creek, MO. Donations can be made directly to them at 1-573-346-5733. The last name on the account is Rainey. Just tell them that it is for the 11 rescue dogs.
Please visit The Ozark 14's Facebook Page if you would like to help out and/or keep track of these dogs. They have all been to the vet and are in the process of being adopted out right now. Some are already in new homes and well on the road to recovery.