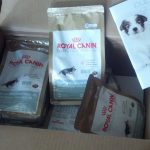 Our adults eat Royal Canin German Shepherd 24 and puppies will be on Royal Canin German Shepherd Puppy 30 Formula Dog Food.
As a Royal Canin Crown Partner, Royal Canin hooked us up with some Puppy Care Kits for our German Shepherd Puppies. Every puppy leaving here will come with one. It consists of a puppy guide, which admittedly we have yet to look through, and also a small bag of puppy food.
Buyers do not have to use Royal Canin, and pups can be weaned off of it, but we have really been happy with the food. We get nothing out of this, just stating that we are genuinely happy with their product.