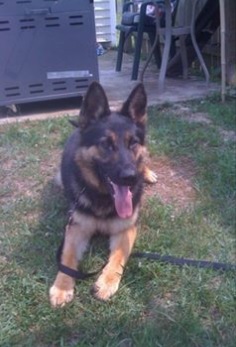 Baxter was a Mt Sterling Police Department German Shepherd K9 Officer loved by many school children who had served for 9 years. He was only 2 months away from retirement when he was tragically hit by a car.
According to WKYT, the collision occurred after Baxter ran into the road on Wednesday, March 28, 2018. They also stated that he is credited with apprehending many felons and discovering many narcotics.
A Facebook post by the Mt Sterling Police Department reads:
It is with a heavy heart that we announce that K9 Dexter was killed in a tragic accident this morning as he was preparing for duty.

Dexter was the first member of our K9 Unit and had served our community with distinction for 9 years. He had apprehended many felons, found large amounts of narcotics and was lived on by countless school children.

He will be missed greatly by not only we at the MSPD but by our community as well. Please keep his partner, K9 Officer Jason Perry in your prayers.#MSPD
Do you remember Baxter the German Shepherd?
Tell the world what you will miss the most about Baxter in the comments below.
Rest In Peace Baxter. 🙁