8:15AM: We're home and situated! Here's Aura, ready for some rest. All 6 pups are warm and feeding! Good job Aura! The vet says we did the right thing. Thank you to our midwoofs for their advice and sorry for freaking anyone out that was watching! 🙂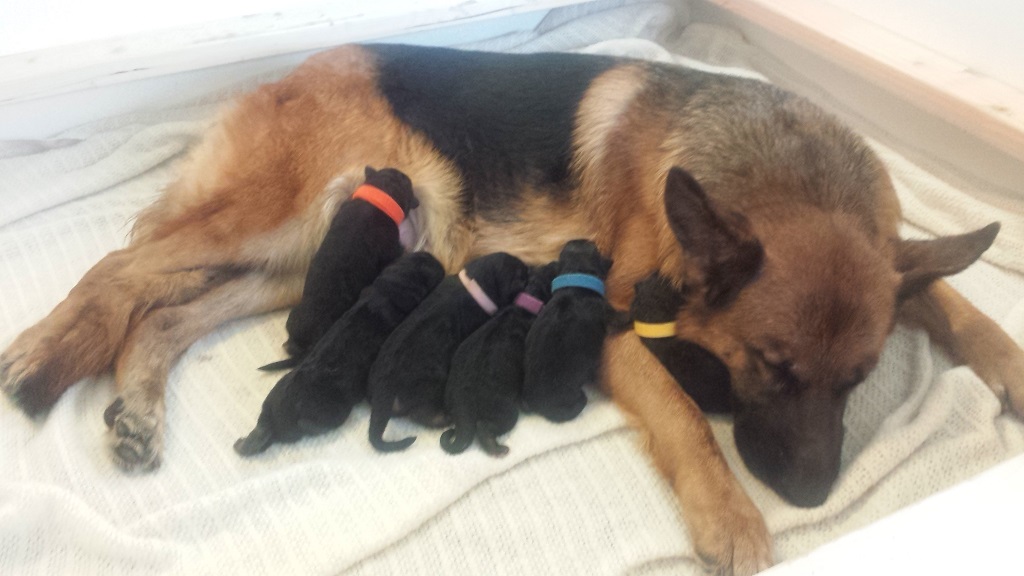 6:26AM: It's a girl!! She will be the yellow collar. That is it folks! 6 big healthy pups!  Hoping to be in bed by 8AM. Logging out!
6AM: We have a boy! We're back in the black! This boy gets the black collar! Welcome to the world!!!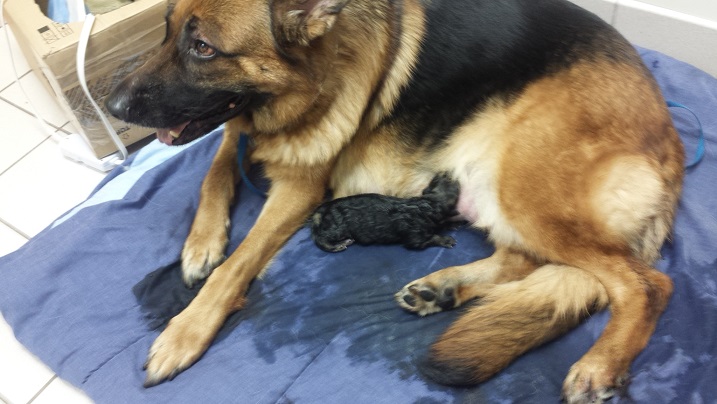 5AM: Aura has had oxytocin to help her along. She may have been fine without this. We'll never know. The vet is confident the pups are just way up high in the uterine horns.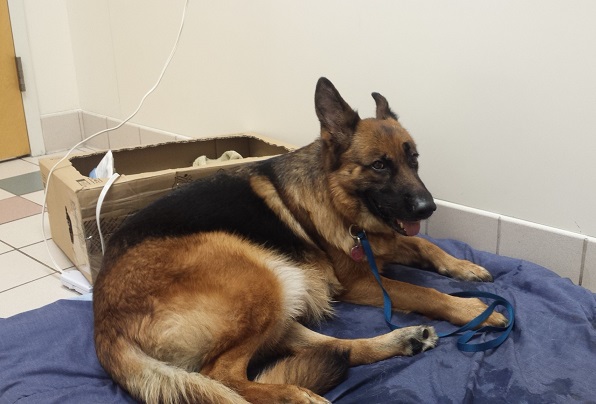 4:15AM: Just arrived at the emergency vet in Cary, North Carolina. Next puppy should have been here by now. Aura is not in distress at all, so that is good. She has had zero contractions in hours and hours, which is odd. Then again, on the A litter she did take a 6 hour break. Some vets do an emergency C section at 3 hours.
Dec 17 – 2AM, Aura still tired.
10:00pm – Aura is napping. more news shortly
5:47: Aura just delivered another girl! She just got the orange collar!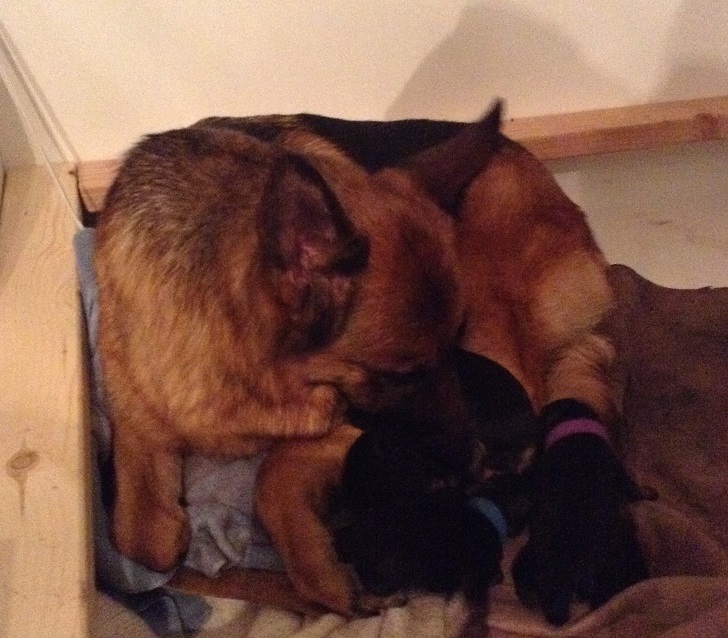 2:46: Aura just delivered a boy! – This boy received the blue collar.
1:55: Aura just delivered another girl. This girl received the purple collar.
1:36: Contractions
12:36: Aura just delivered a girl. She is gigantic! This girl received the pink collar.
12:05pm: Contractions have begun
11am: Aura has finally settled down in the whelping box.
10:45am: Aura is breathing much heavier now. We took her outdoors for a quick walk and she wanted to nest. She is now very restless and has been walking all over the house looking for a place to give birth. We have showed her the whelping box several times.
December 16, 2014- everything from this line and above is Dec 16, 2014.
---
December 15, 2014:  5pm: Aura stopped eating today and has been breathing heavy. She is in "pre-labor".
We are hoping to live blog the puppy birth of our next litter of German Shepherds!
If we do, it will take place on THIS page. We have may a 12 – 24 hour notice. Then again, we may have NO notice. The "event" may start at 3PM, or it could start at midnight. We have no idea! If you follow us on Facebook, we will be sure to announce it there! Or on our new mailing list:
[mc4wp_form]
Please note: This blog post may or may not happen! We'll do everything that we can to make it happen.
Be sure to bookmark this page or copy the URL if you would like to find it again easily! Here it is:
http://hektorhaus.com/puppy-live-blog/
If/when the live blog starts, events and births as they happen will begin appearing on this page in reverse chronological order (newest updates towards the top).