Raleigh NC German Shepherd Puppies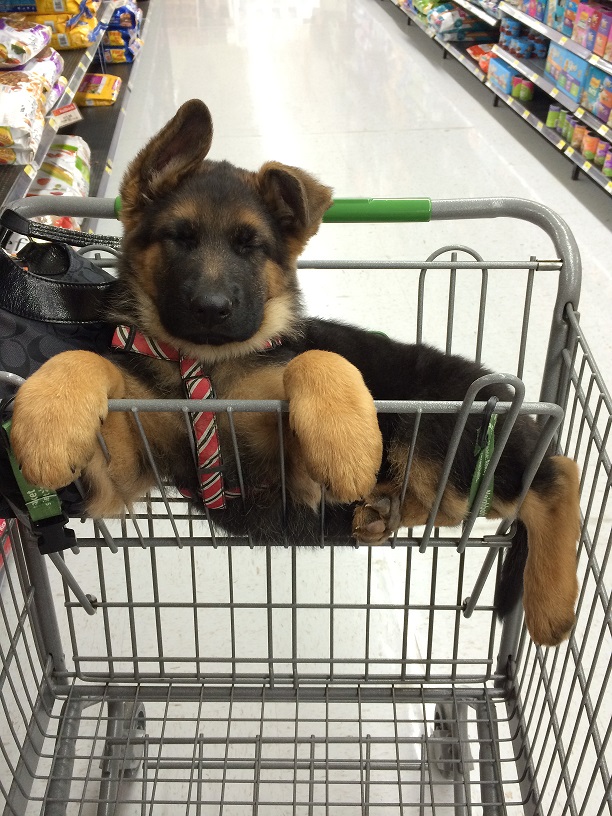 NEWS 2/2/2017: We may be selling a 24 month old male. He still has his puppy fur. If you are interested in a developed male in excellent condition out of one of the top males in the country visit his page here: Otis the German Shepherd. Also,  feel free to contact me here.
Otis was from our 3rd litter, right out of the male and female listed lower on this page.
NEWS 12/30/2016: A breeder near us who has no website has puppies available very similar to what we listed below. They are nearly 8 weeks old. If interested, contact me here. These are West German Show Line pups – please see the very informative page and content below to get an idea of what you are looking at- there is a ton of information below. I do not have exact pricing but they are likely in the $1500-2500 range. Pups available in a few weeks or so. Many females in the litter!
 
The Dam:
BH Aura vom Roten Feldweg
Aura is a large female from Neckarsteinach Germany and our family protector and companion.
Hips: SV: HD a-normal (a1) (Best possible rating).
Temperament: BH Obedience and temperament title.
Registration:
– Pink Papered with Schäferhunde (SV) in Germany
– AKC Registered in USA.
DNA: On file @ AKC
More: Aura received conformation show ratings as a pup.
Pedigree: Find out more about Aura's outstanding pedigree on our Dogs Page.
More: September 2014, Aura's sister is now a World Champion!
 
The sire:
VA 4 Ando von der Hopfenhalle, SchH3, KKl 1
Ando is a large male with excellent pigment, a strong head, excellent angulation, and very good movement at all levels.
Hips: SV: HD a-normal (a1) (Best possible rating).
Temperament: Kkl1 (Highest Temperament Achievement). This is NOT easy to get.
Schutzhund: SchH3 (Most advanced obedience and protection title).
VA: Rated "Excellent Select" at the World Sieger Dog Show in Germany.
Registration:
– Pink Papered with Schäferhunde (SV) in Germany
– AKC Registered in USA.
DNA: On file @ AKC
More: Ando is one of the top males in North America. Deep, rich color. Pictures don't do him justice.
Pedigree: Ando's Outstanding Pedigree
Note: To stay on top of the latest news on upcoming litters please join the spam-free mailing list on the right hand side of the screen. Email is only sent out once every month or two.

We have produced our third and final litter, BUT, we DO have a friend with this same line with pups becoming available from time to time. 
There are around 450 pages of good information on this site, so please feel free to check it out. It has been put here to help you in one of the most important decisions you'll make in a wonderful Shepherd's life.
We hope to restructure some of the massive amount of data here soon. 
Please read the FAQ below, also, for answers to commonly asked questions.

Also, feel free to Email us.
News: September, 2014, Aura's sister got a VA award at the world Seiger show, making her a World Champion. This is the top award given out for GSDs in the entire world.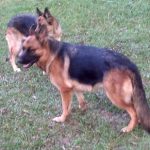 Aura is beyond what we had hoped for when importing a German show line puppy from Neckarsteinach Germany. Her coloring, strength, temperament and proportions are excellent. The stud is even more impressive with his show ratings and Schutzhund titles and is one of the top males in the USA. Aura's puppies will be, hands down, the best looking German Shepherd Puppies for sale in central North Carolina.
If you were not looking for a German Show Line German Shepherd, or you came here looking for a working line or an American line German Shepherd, a rescue dog, or any other type of GSD feel free to email us and we'll be happy to point you in the right direction. Here is a link to an article explaining the differences in the various types of German Shepherds.
Puppy pics will be posted almost every day on our social media accounts and on our blog.
Frequently Asked Questions:
How do I get a puppy?
Please email us to inquire about current availability. We will email you a small questionnaire to ensure you know what you're getting yourself into and that the pup is going to an outstanding home. $500 deposits can be checks, must be made in advance and are non-refundable. At time of pickup we accept cash or certified checks made out to Hektor Haus.
What is a West German Show Line German Shepherd?
We believe that these are the healthiest, most beautiful type of German Shepherd available. They have excellent expression and are very intelligent. They do not have to be "shown". Unlike many of the other types of GSD, they meet the true breed standard as defined by the SV (Schäferhund). There is also a German working line, a European line, and the American line which is almost a completely different dog. There are also a dozen others. They are all great dogs, the show line just happens to be our favorite. If you were not aware of them all, please read about the various types of German Shepherds. As with many other breeds, AKC just calls them all German Shepherd Dogs. Both parents of these pups have been registered IN Germany by the SV. This is also known as dual registered. Yes, they have passports.
When are puppies available?
Puppies can go home after 8 weeks of age.
Can I come look at the puppies?
Puppies have no immune system and can also easily contract illness and it would simply be irresponsible for us to have people coming here as soon as they are born. We keep our website up to date with daily puppy pictures starting at birth. Puppies are available to see "when they are old enough" to serious buyers.
Can I name my puppy?
Yes. There are 2 components to a dogs name, the "registered name" and a "call name". For registration and pedigree purposes the pups can be named traditionally. Traditionally, the first litter to leave Hektor Haus should start with an A. The second litter should start with a B, and so on. For example, one of the pups from the A litter is named "Aries Vom Hektor Haus" but has a call name of "Fenway" as his owners are Red Sox fans. The dog goes by Fenway every day, but he is registered as "Aries vom Hektor Haus".  In other words, if you get a puppy from the C litter and are set on calling him "Max" feel free to do so. Registration is optional, and, you are free to register them with whatever registered name or call name you'd like.
What will you do with them the first 8 weeks?
We have an amazing program for the pups. We have children, and Aura has access to the pups at all time. We have chickens and other animals here. They will have experience absolutely everything the pros recommend, and more. Vacuum cleaners, misc noises, TV, radio, the occasional cat, etc. The first week we sleep right beside the whelping box and assist with any issues that may arise. This is just impossible to find these days and the value it adds is just incredible. We have an experienced, certified trainer who has owned 20+ GSDs (and currently owns 5) and has been breeding over 20yrs that purchased a puppy from the A litter. She calls us once a week to question us and as us "what the heck we did" to create such a stable, confident, fearless puppy.
Will they have had shots?
All puppies will be 100% up to date on all wormers and every vaccine available except for bordatella by customer request. The mother gets prescribed vaccinations and wormers during her pregnancy as prescribed by the Theriogenology Doctors and Clinical Technicians at the North Carolina State University College of Veterinary Medicine for maximum antibodies coming from mom at birth. Moms gets wormer while pregnant and the puppies get it as prescribed by the veterinarians at Jordan Lake Animal Hospital. We do not punish dogs at all. After 5 weeks of age we run them outside as soon as they wake up, as soon as they eat, and many times throughout the day. We reward the good and ignore the bad. These pups will have the best head start available.
Should I crate train my puppy?
This is up to you. It is a great tool for potty training. We will have an open crate in with them and they will be familiar with them. If you will have your puppy in a crate please start as close to 8 weeks of age as possible. Our adult dogs are very comfortable going in to their crate, even if we only use them once a month, as they used them while they were younger. A crate should not ever be used as a punishment. Please read up on crate training if you would like to know more about it. It is an excellent way to potty train and our GSD loves her crate.
Will my puppy cry at night?
All puppies go through some sort of anxiety when they have left their mom. Expect crying or barking, especially at night. Giving the puppy affirmation while they are doing this will prolong the process and can create "separation anxiety" behavior as an adult. When they stop is the time to praise them or give a treat. You can leave a TV or radio on near them so that they can hear human voices during this process. The puppy must learn that you will not always be around. This can be sad, annoying, or even make you crazy. Patience is the key, you will need to wait it out and never punish the dog for this behavior. Reward when they have stopped crying and these brilliant dogs will get it. Each puppy will come with their own blanket or towel that smells like their mother and siblings.
8/26/2013 Update: Puppies from our A litter have had excellent reports and have been very confident pups with minimal whining.
What do I feed my puppy?
We will go over our recommendations with you when you pick up the puppy. They will be eating "Royal Canin German Shepherd Puppy 30 Dry Dog Food" and other supplements. A Royal Canin welcome kit and some food will come with the puppy.
Any other puppy tips?
Socialization. This is extremely important for German Shepherd puppies. Do NOT introduce your German Shepherd puppy to other animals that exhibit aggressive behavior.Exercise. Their energy will come out one way or the other, and exercise is mandatory. They might settle down a bit when they're 3yrs old, until then, the must run or go for brisk walks. They will not exercise themselves, they want you to be a part of it. We're on 6 acres, and when we let ours outside they just sit by the door waiting for us. Socialization and exercise can not be repeated enough. These are absolutely mandatory.
If I don't want my dog any more in 5 years from now what do I do with it?
This hasn't been asked, but just so you know, we will take in any Hektor Haus GSD, for any reason, at any time in the future, free of charge, and give them a great home. We can not picture anyone getting tired of their most loving family member, but if the need ever arises, say the owner is injured in a terrible car accident or for any other reason, we're here!
How do I select a breeder?
This hasn't been asked either, but we did write up an article on how to pick a breeder. If you do not get a Hektor Haus GSD, there are plenty of tips in this article and hopefully you can gain some information from it to assist in your search.
How much are German Shepherd puppies?
Be sure to check out this article on GSD pricing. It explains why some GSDs are $400, $1000, or $2500, or more, and what to expect to spend on the various lines of GSDs.
Link: GSD Pricing
Please send us an email for current pricing and availability.
What do you feed them? We use Royal Canin products here. Each pup will go home with a sample bag. At 8 weeks of age when they are picked up they will be on Royal Canin German Shepherd Puppy 30. We have a blog post set up here on what we feed our German Shepherds from the moment they're born through adulthood.
Will they have had shots?
They will be completely up to date on shots, although you will need to get them more shortly after getting them. DHPP for example is done in a series. Rabies for example cannot be given until they are 12+ weeks old and many people wait until they're 16 weeks old.
What about a microchip?Your pup will come pre-chipped. We have this done at 7 weeks of age when they get their first round of shots. We will have also paid for the registration for their chip. We will submit the paperwork to HomeAgain with your information. (Since we pay the vet for this service they must submit the paperwork, we can not give it to you to submit). You will be given the microchip number which is already implanted in them. It is a simple RFID chip. If for some reason they are lost and sent to a pound or a vet, when they scan the lost dog, the microchip # appears on their screen. The # is then typed into a database which displays your information.
Can I register my pup with the AKC?
Yes. It is not necessary and is optional. We are able to register the litter. The litter will be registered. It is up to each individual owner to register the puppy if they want to, we can not do it for you. Since the litter is registered, this only costs you $30 if you choose to register your pup. You get a neat certificate in the mail if you do this.
How do I pick my puppy?
This really confuses a lot of people. We've heard everything. Some people want to come and squeeze their toes. Some people fall in love with the color of their collar. Sometimes if we have you come out here the one in the corner that is asleep and ignoring you with dookie stuck all over his coat is actually the best pup for you. What we'll do is find out from you via a series of questions what you are hoping to get out of a pup. Most people have a very god idea of what they desire, male or female, companion/family member or sport dog. We spend an enormous amount of time with them and get to know each one very well. A lot of people say it is impossible to even predict personalities by 6 or 7 weeks of age but we feel we're pretty good at it. Many breeders of this type of dog offer you no option at all, but, sometimes we'll have 2 or 3 that are just very similar. Once we've narrowed them down, if they are very similar, you can come take a look and help us decide. To be clear, we have the puppies best interest in mind. On the A litter, 7 pups went to homes to be companions. 1 went to a home to be a therapy dog for healing children. 1 went to a home where he will be professionally shown. 100% of the people are absolutely thrilled with their dogs.
Will they be potty trained?
Heck no! BUT, they have an amazing head start you simply won't find anywhere else. Since we were stupid enough to raise them indoors, starting around 5 weeks of age, we run them outside every morning when they wake up. We run them out every time they eat. We run them outside after naps. We run them outside in between. We run them outside when we sanitize their area, which is about 8 times per day.
Do you punish them? No. When they go out and go potty we say "good potty". When they bite us we simply yelp and move them to the side. We offer praise when they do good and ignore the bad. They are a truly clean slate when you get them. We'd encourage you to investigate this approach. Please note puppies have a memory of about 0.5 seconds. Scolding them for something that happened even 10 seconds ago teaches them absolutely nothing. The very last thing you want to do with a puppy is create fear of humans, especially a GSD. They need to retain their confidence.
What if my puppy is afraid of something?
Please note that they have fear periods. The absolute best thing you can do is ignore them if/when they show fear. This is totally natural. They will show fear of something in weeks 7-12. DO NOT comfort them when this happens. Hearing the experts saying this is one thing, witnessing Aura (mommy) ignoring them when they are afraid of something is another. This is how they learn to cope with things. Comforting them when they are afraid of something nurtures that behavior and teaches them it is ok to be afraid. You do not want this to happen. Just remember they are not people. You will be rewarded with a confident dog for many years to come and your dog will be so happy that you helped them. You may not ever even experience this, but if you see it you'll know when it happens. For example, a thunderbolt goes of, puppy whines, just ignore them and go back to drinking your coffee or just leave the room and they'll stop in a second.
Have a question? Want a pup? Please send us an email.