If you're walking around the twin cities in the summer of 2017 you may notice painted German Shepherd statues around the city. There are almost 200 statues of these German Shepherds around town and they will be in place all of July and August and going away on Labor Day.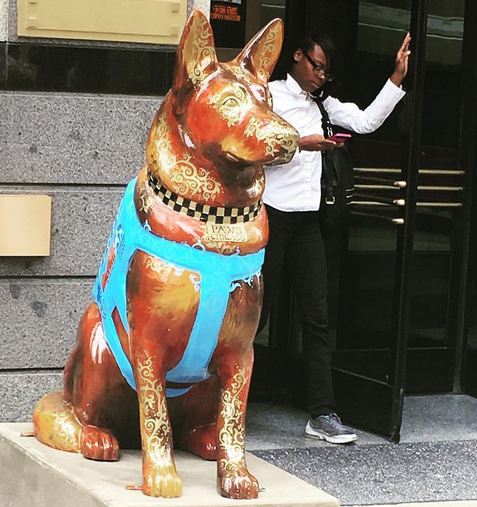 What are all these German Shepherd statues for?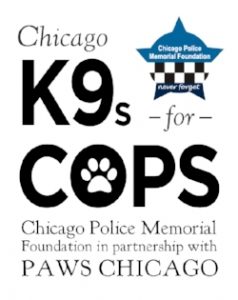 The German Shepherds around town are part of a public art campaign called "Chicago K9s for Cops". The campaign was conceived to memorialize Chicago's fallen (human) officers while supporting the families of police officers that have been killed or catastrophically injured in the line of duty. The program is brought to Chicago by The Chicago Police Memorial Foundation in partnership with PAWS Chicago. The official Chicago K9s for Cops website is here: ChicagoK9s.com.
PAWS Chicago's mission is to build no kill communities for both cats and dogs, end the overpopulation of animals and transform animal welfare.
The Chicago Police Memorial Foundation is a non-profit organization dedicated to providing support and assistance to the families of Chicago police officers who are killed or catastrophically injured in the line of duty.
The German Shepherds are about 4.5′ tall and placed on a cement stand. Local artists painted the statues. Leftover statues are to be auctioned off on eBay after Labor Day with hopes of bringing in at least $250,000. Initially, the statues were sponsored by local community members and business owners for a minimum of $2,000. Some of the people who donated opted to keep their GSD statues for an additional $500.
Similar art projects have been used around the USA using horses and goats.
Where can I see all of these German Shepherd Statues?
The majority of the 100 – 200 statues are located on the "Magnificent Mile", aka Michigan Avenue.
Users sharing images publicly on social media were encouraged to use the hashtags #TheMagMile and #ChicagoK9s.
Below is a map showing where all of the German Shepherd Statues are located: