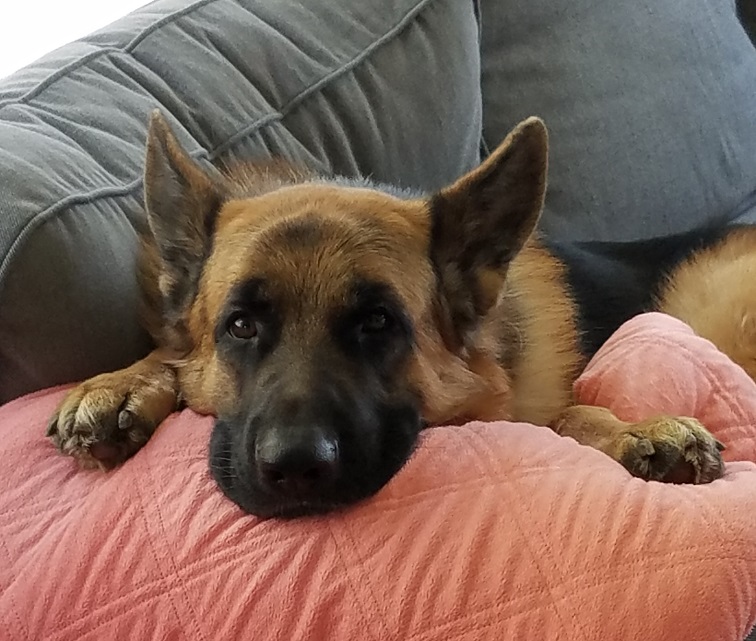 History:
Otis left here at 8 weeks of age. No expense was spared and he has an amazing mom and dad. His brothers and sisters live in North Carolina, Florida, New York, California and everywhere in between.
I have always told people that they could bring their dog back at any time if they needed to give him a good home and I would either care for the dog or find them a home which fits them.
Otis' owner had some medical issues and is unable to care for Otis. She sent him to live with us on December 23, 2016.
Pros and Cons:

Otis absolutely loves attention and being with his owner at all times. (This could be good or bad depending on your lifestyle)
He is absolutely beautiful.
He was just neutered at 24mos.
Otis is protective of the home.
Outstanding parents.
Otis is super soft with an awesome coat.
Otis LOVES to play.
Otis doesn't give a great first impression. He can bark or growl at people when meeting them although this is mostly with adult men. This could be a pro or a con. He is eager to learn and could totally overcome this with the proper training and socialization and by no means is he "too old" but he does need your patience and some confidence boosting. If you have people in and out of your house every day, he isn't exactly going to jump into their lap and snuggle with them. That said he has a warm heart and I don't think he is capable of hurting anyone and I have had him around children of all ages. He doesn't "dislike" males; I am a 6'3 male and he absolutely adores me.
Otis can get REALLY excited. I almost have this totally cured and he is highly receptive to snacks, but for example if you go to put his collar and leash on he can get SO excited he'll urinate uncontrollably. This used to happen 4x a day and I have it down to once a week.
Otis can get excited if another dog is excited, or when children are excited. For example if 2 children are wrestling he can begin tugging at their clothes trying to stop it. He is not aggressive just easily excitable. Why is beyond me, his parents both have nerves of steel and hold temperament titles. This is by no means uncommon in the German Shepherd world and this could be corrected if needed with training.
Pulls on leash, especially if there are other dogs nearby.
He will not be content in a fenced in area while you are outside of it. Don't even bother attempting this as he will run along the fence line while barking to be with you. That said, he does completely fine in the home when left alone.
Recap:
If I did not own his mother I would not consider letting Otis leave here. Two shepherds is just too much for us at this time. I work from home which is an ideal situation for Otis.
Otis also needs exercise. If you walk or jog 4 or 5 times a week he will make a great partner for you.
I live about 30 minutes west of Raleigh North Carolina.
Adoption Process:
If you think Otis is a perfect match for you:
Please read this entire page. See my puppy page which details how and why we bred his German Show Line mom & dad to get outstanding puppies.
Do NOT contact me if you are not looking for an indoor companion to have and to hold through thick and thin forever.
Be sure EVERY member of your house is 110% on board with your adoption plans.
Then feel free to contact me here. Include your telephone number on the contact form.
His adoption fee will essentially be the cost of his crate and neutering.
This is not a "first come first serve" scenario. We will be placing him with whoever we feel is in HIS best interest even if it means keeping Otis here; dogs are always welcome here. Previous dog experience is preferred, previous GSD experience is a bonus.
Otis's Progress
I have really been slacking here but here is a timeline of Otis's progress and time with me, from most recent to oldest.
3/27/2017
Here is Otis at night after dinner coming by for 15 minutes of affection:
3/26/2017
Otis does get excited when moving wheels are near him. But as you can see in this next video, he is making progress:

And here he is just hanging out in the yard while I am doing some yardwork:

3/10/2017
On March 9 Otis was neutered!
3/1/2017
Otis playing off leash at our house. We live on 6 acres and he loves running all around. My only worry here is our neighbor a few acres away who has all sorts of cats and chickens, but so far he has stayed right on the property. Here we are playing fetch. He also loves playing "keep away".
Otis does amazing with Aura indoors and 99% of the time although he doesn't "play" great with her- it usually consists of lots of barking. That said, Aura is 6yrs old and rarely plays for more than a few minutes each day.

2/13/2017
Man the whole family has been wicked sick. Finally better. Yay!
Otis is doing awesome. He is an awesome dog. If I did not have Aura I wouldn't let Otis go ever. He is a very fast learner. It almost makes me wonder if Aura is dumb or ignores me! Haha! Otis is so tall, if he finds something on the counter he may snatch it! We also have an electric trash can he has figured out how to operate! haha. He controls himself most of the time – at least as much as can be expected for a 2yr old, just don't leave your burger on the counter or else you'll just hear "clink, gulp".
I have now bathed Otis, clipped nails, washed ears and am working on all of these things with him. I know he was well taken care of but he was sensitive to many of these things. I try to make all of these events "happy" events. Any time I clip nails, it is just before a ride in the truck and a nice walk on some pavement to file them down. Any time I give a bath we play after and they eat supper. Any time I clean ears there are snacks. If you follow these patterns with their dog they will at least tolerate them.
I have also discovered Otis has a lot of drive. This is very sought after in the show line. While it is a good thing, none of my females have ever had this much drive and I am not familiar with it. I need to start playing fetch some more out back. He would do good with some real training, too – in a group setting I suppose – not sure.
2/8/2017
Feb 2 2017
Lots of walking today – about 2 miles. Every time I go out the dogs jump into the truck with me. I roll the windows down so that Otis can see all of the people walking around downtown. I think he is getting used to them. I need to introduce him to more people again soon and see how he does.
2/1/2017
I took Otis back to the river again. There was a guy fishing nearby but he was far enough away I figured the dogs would leave him alone. They did.
This time Otis returned immediately every time I called him. Yay!

1/31/2017
There is a river near my place and after being sick for a few days I took Otis & Aura there to run around. At places like this, Aura is never on a leash. I took Otis's leash off to see what he would do. I expected him to run around and ignore me a little. Which he did. I was hoping after he settled down he would come when called. He did. I give him an A+ for the first time. and if you see the next day's video – he is perfect.
1/29/2017
The kids love playing with Otie and he is great with them.  One of them is behind Otis in this picture below hanging her hair over him. haha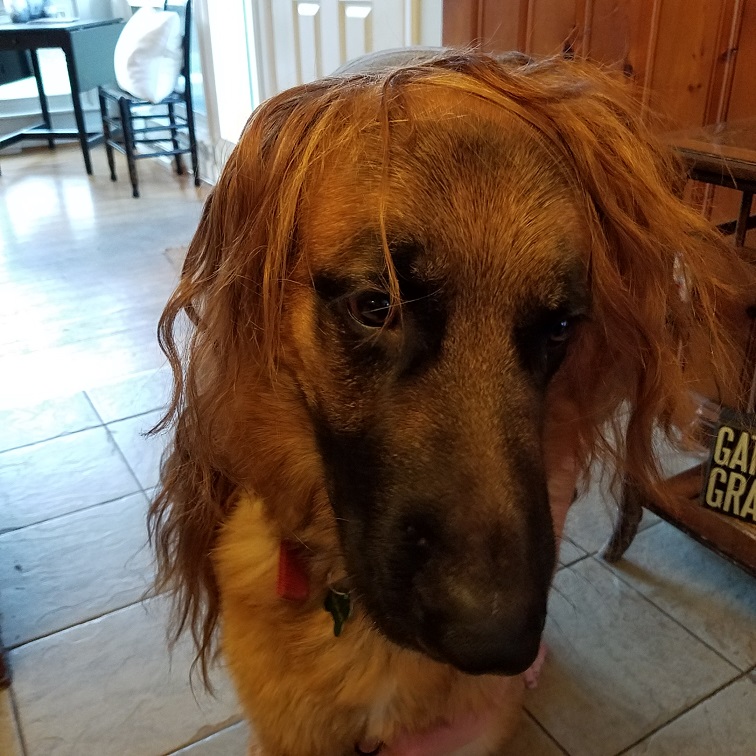 Otis no longer gets overly excited and has his favorite spot on the couch now. He bonded with us very fast. He is a great dog!
I can't take him anywhere without literally everyone saying "Wow, what a beautiful dog!"
He needs some more socialization but is otherwise doing awesome. He learns so fast and is eager to please.
1/x/2017:
Otie is a great dog, he has a LOT of energy. He had a few issues, some of which were new once arriving at our place. Understandably, it is taking a few weeks for him to settle in.
With all of his energy I have begun taking him on 2mi walks/jogs! He also likes chewing on his bone.
He sure is a beautiful dog. He is exactly what we envisioned when breeding. Nice black saddle, dark mask. He is just a big old horse.
Odie gets super excited when he sees me and sometimes peed a little on the ground. I believe I have that problem licked. (Update, this ended Jan 14ish and has never happened again).
Otie hangs out in his crate after supper sometimes.
Here is Odie coming by for a pet. He is very affectionate.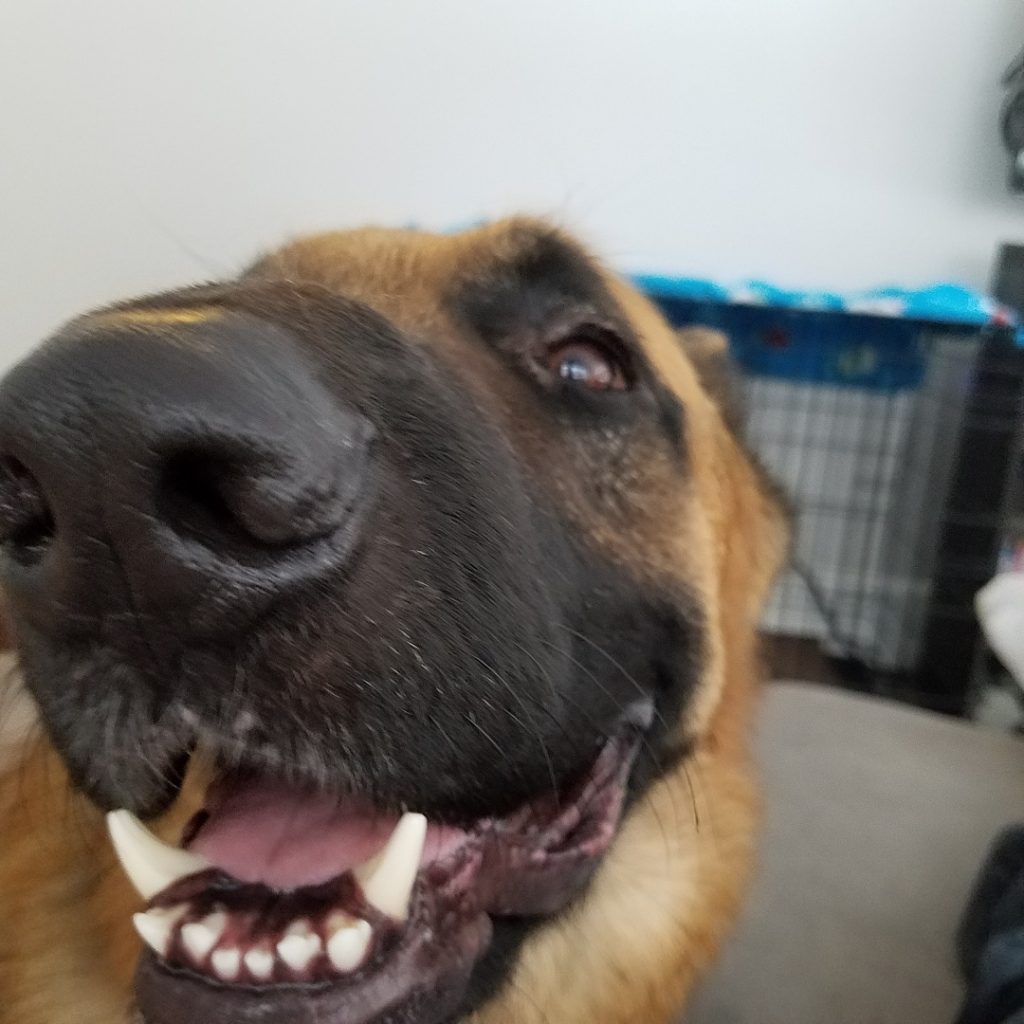 12/28/2016:
We went every day for days. Her we are on the 28th: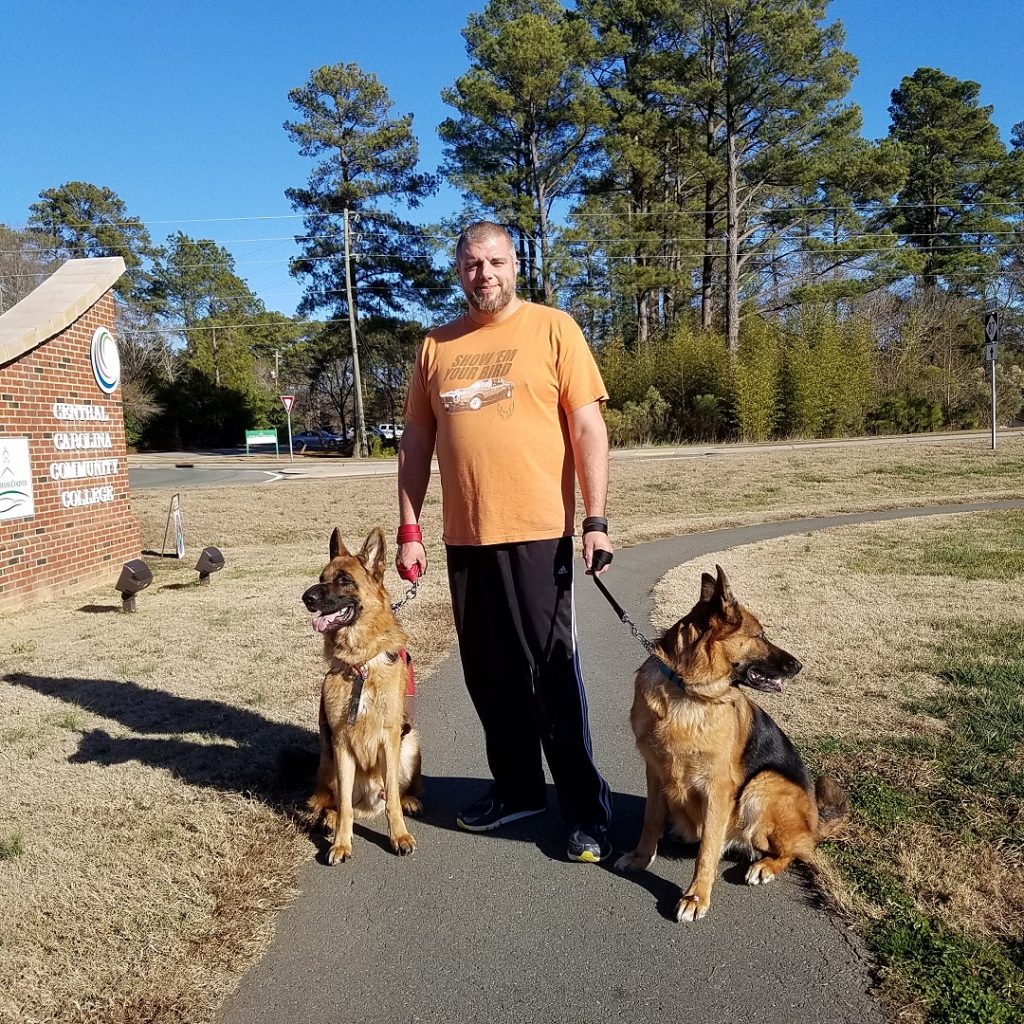 And again a few days later:
 12/26/2016:
The first thing I did once getting Otis back is take him on a very long walk with his mom, that is, after they were getting along, which didn't take too long.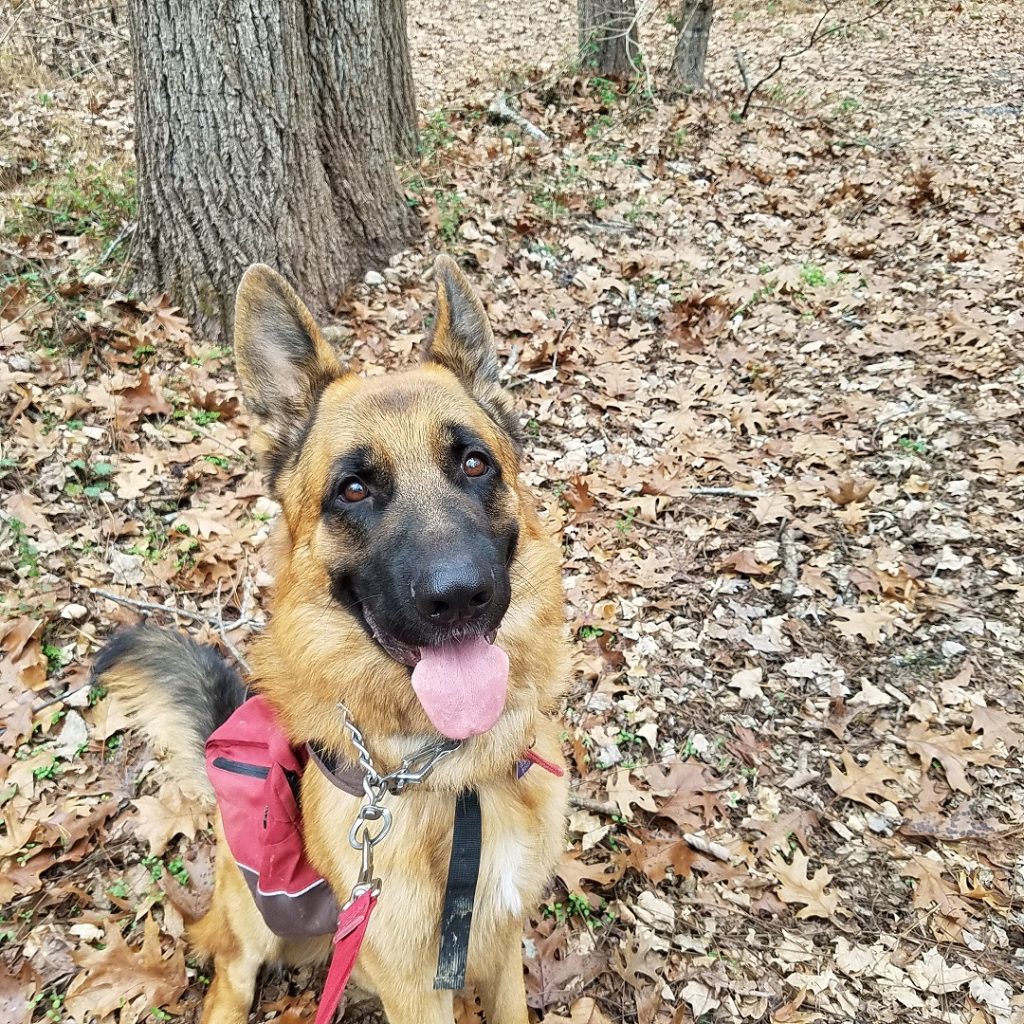 Here he is walking beside Aura (mom):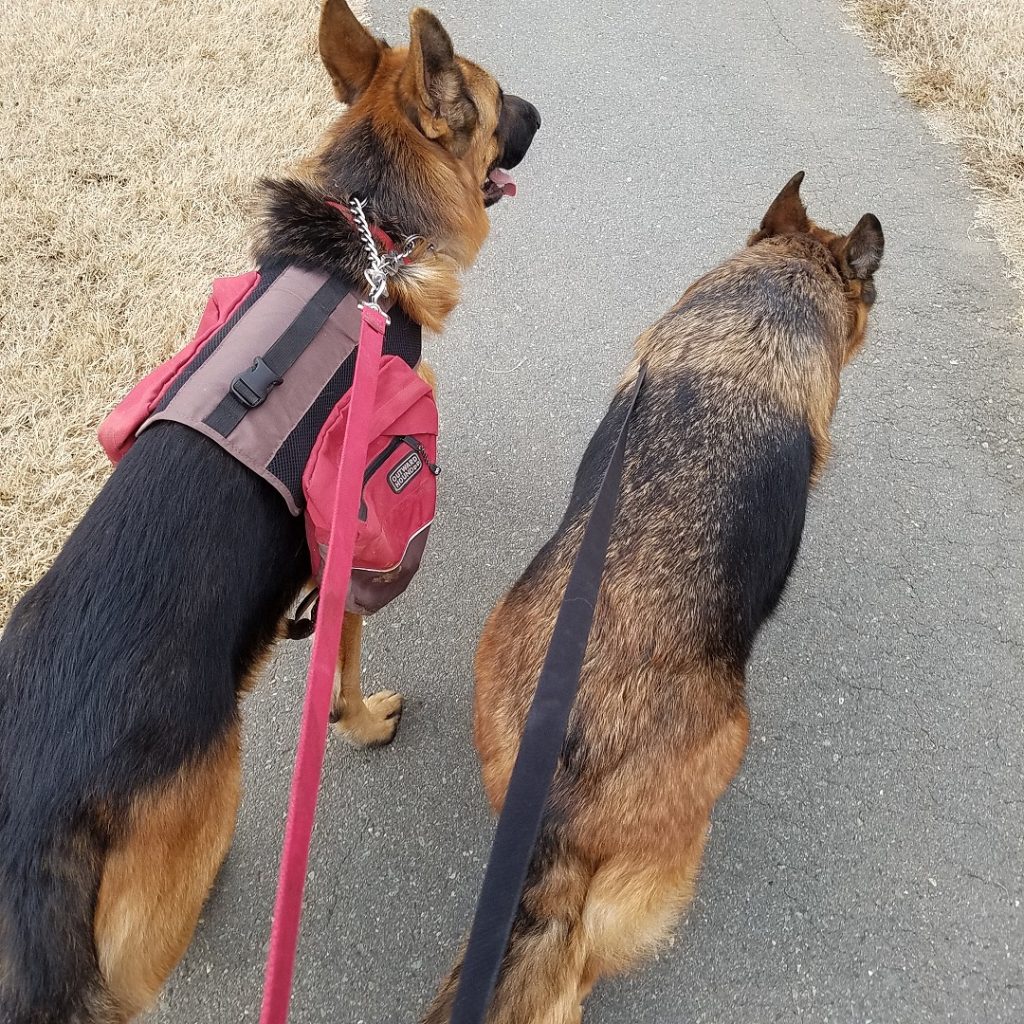 After the walk, they are nice and relaxed: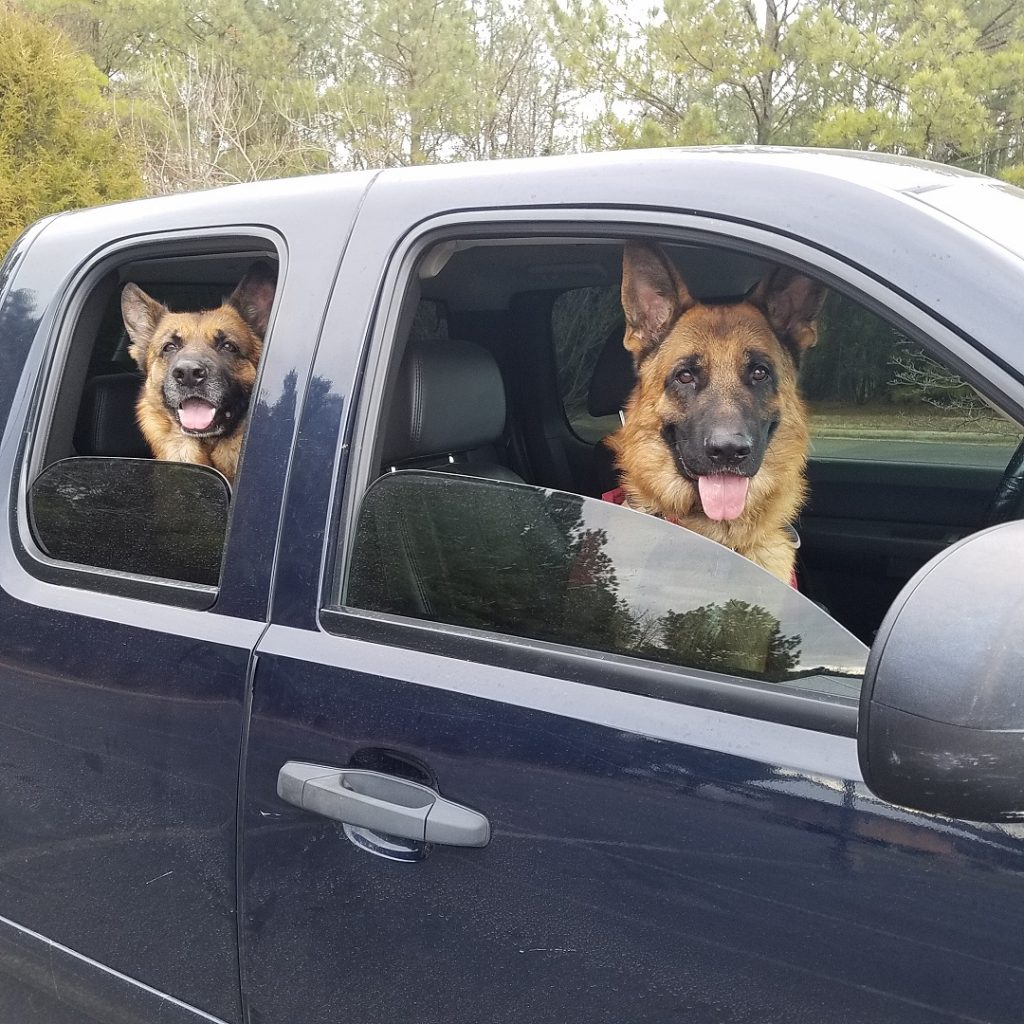 12/23/2016:

December 23, 2016, "Otis" came to live with us. We have been calling him "Otie". Will he come a "Cody"? Who knows!
Otis still has his puppy fur. Even at 2 years old, he is still a puppy!
12/2014:
This was Otis at birth!
Odie was sold before he was even born. He was born December 17, 2014 at 5:59AM. Here is the announcement of the C litter arrival. I had also run a live blog of their birth.