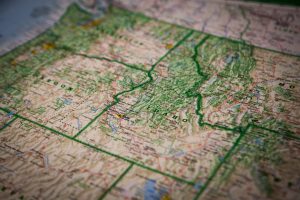 A runaway German Shepherd in Star, Idaho is now at home thanks to the quick-thinking of two local police officers.
On January 22nd, 2019, officers Alan Speakes and Sean Darlymple saw what they thought was a coyote on the side of Idaho 44 near Idaho 16. When they got closer, however, Speakes and Darlymple discovered this injured animal was actually a German Shepherd.
Both officers gently placed the dog in the back of their car and contacted the nearby Star Veterinary Clinic. Veterinarians say this dog had a serious injury on one of his back legs, which was most likely caused by a speeding car.
After treating the German Shepherd, employees at the Star Veterinary Clinic looked online for recent "lost dog" posts. They soon found a post on social media from a Star family that recently lost two German Shepherds.
Receptionists contacted the family listed in the post with the happy news. Once the owners arrived at the vet, the German Shepherd "Zuki" joyfully ran around the clinic. Vets said Zuki won't need any further treatment.
Zuki's owners said both of their German Shepherds ran away a few days ago, but they were able to find the other dog. They are both grateful to have Zuki back in their lives and expressed appreciation for the officers' actions.
To read this story in full, check out this report put together by KTVB.com.