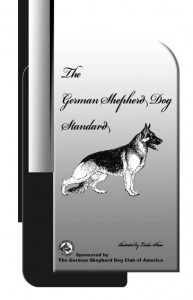 Poking around on the web today I bumped into The German Shepherd Dog Club of America's Judges' Booklet.
Download the booklet here.
This is a great book which describes the German Shepherd's Breed Standard in detail.
Please note, this booklet is from 2011 and may be completely out of date. However, it is still fun to look at!
From the intro:
General Appearance

The first impression of a good German Shepherd Dog is that of a strong, agile, well muscled animal, alert and full of life. It is well balanced, with harmonious development of the forequarter and hindquarter. The dog is longer than tall, deep-bodied, and presents an outline of smooth curves rather than angles. It looks substantial and not spindly, giving the impression, both at rest and in motion, of muscular fitness and nimbleness without any look of clumsiness or soft living. The ideal dog is stamped with a look of quality and nobility–difficult to define, but unmistakable when present. Secondary sex characteristics are strongly marked, and every animal gives a definite impression of masculinity or femininity, according to its sex.