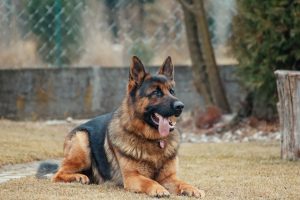 Yes, but there is no evidence dogs can be infected with Coronavirus. The dog's owner likely sneezed on him. The positive test result was announced on March 19, 2020 via a Press Release issued by the Hong Kong Agriculture, Fisheries and Conservation Department.
Here's a link to the Press Release: https://www.afcd.gov.hk/english/publications/publications_press/pr2346.html
According to the Press Release:
The current case involves a German Shepherd dog that lived in a residence at Pok Fu Lam. When the owner was confirmed with COVID-19, the dog was sent for quarantine with another mixed breed dog from the same residence to the animal keeping facility at the Hong Kong Port of the Hong Kong-Zhuhai-Macao Bridge yesterday (March 18). No positive results were obtained from the mixed breed dog and neither dog has shown any signs of disease.
There is no evidence pets can be infected with COVID-19!
The World Health Organization previously stated on their myth-busting page that dogs may not be infected with COVID-19, however, they removed that content (likely due to the way the FAQ was worded.)
A great article on the University of Illinois College of Veterinary Medicine's website explains that the dog's owner was infected and shedding the virus. So yes, the dog could test positive, but so could a coffee cup.
From the article:
This canine patient was in close contact with an infected human, who was likely shedding large quantities of the virus. This led to the virus being in the dog's nose. There is no indication that the dog is sick or showing any symptoms. Authorities say they will continue to quarantine and test the dog to evaluate if the canine patient becomes ill. In short, there was coronavirus on the dog just like there was coronavirus on the floor in the room but the dog was not infected or diseased.