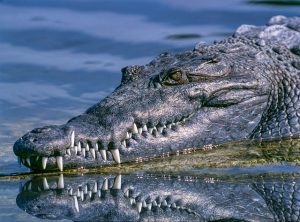 Shamrock Park and Nature Center is a park in Venice, Flordina with walking trails, a playground, tennis and sport courts, an environmental center, all among a waterfront habitat with animals such as alligators. Unfortunately, on July 3, 2018, one of those gators decided to eat a German Shepherd who was briefly off leash.

Dogs are allowed at the park and leashes are required. Sometimes Shepherd owners, myself included, briefly let Shepherds off leash when no-one is around. In most cases, that's just fine. Apparently, the GSD owners, who had 2 German Shepherds with them, let their dogs off and they likely discovered a gator and sniffed around until the gator attacked one of the dogs.

According to the Herald-Tribune, one dog was taken to the vet where they succumbed to their injuries. The second dog was missing at the time of this article. Hopefully the dog is safely located and returned home.

Our thoughts and prayers are with the owners of these curious canines and their owners.