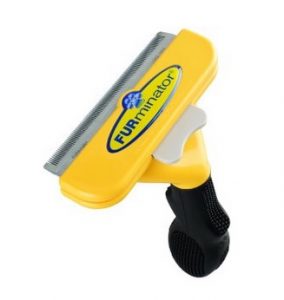 The Furminator on Amazon.com is an amazing de-shedding tool for dogs of all types, including German Shepherds.
As of August 2015, nearly 7,000 people have reviewed the Furminator, with nearly everyone giving the tool 4 or 5 stars.
Unfortunately, there are cheap Chinese knock off FURMinators being sold online.
This link takes you directly to the GENUINE FURminator. As you can see in the description, that FURminator "ships from and is sold by Amazon.com". The trick is to buy directly from Amazon instead of a third party selling on Amazon.
Details:
When you read the reviews, several negative reviews from 2013 appear as hundreds of people have voted these negative 1 star reviews as "helpful". These bad reviews make statements to the effect of "The Furminator I received was a fake" or "The Furminator hurt my dog" or "The tool caused my dog to yelp". Yet, other reviews are glowing and say the Furminator is the best thing since sliced bread.
Some people wonder, are the Furminators for sale on Amazon fake knock-offs or counterfeit? I even saw a forum online that said to buy the product in a local store.
When you make a purchase on Amazon, not all items are sold by Amazon. Under the "In Stock" text, if the item is sold by Amazon, the text will read "Ships from and sold by Amazon.com".
I checked with Furminator directly and Amazon is indeed an authorized seller of the authentic, genuine Furminator. If you purchase a Furminator just be sure that you are buying it from Amazon directly. The fake items have inferior blades which make for an unpleasant experience for your pet.
If you are looking for a Furminator feel free to use my affiliate link here which will take you directly to the real product sold by Amazon.
Buy your Official FURminator from Amazon here.