I recently received an around the waist, hands free leash for jogging with my German Shepherd. There are a couple different types of leashes and I review them in this article.
The Hands Free Bungee Dog Leash for Jogging:
If you jog with your dog you're likely looking for an "around the waist" type of leash like this one which I review in the video below:



This leash is adjustable to a waist size of around 44 inches or so. You simply put it around your waist and attach the other end to your dog's collar. There's a handle towards the bottom in case you need to firmly hold your dog and keep him or her on a short leash (aka a traffic leash). There are many like this on Amazon. The middle of the leash is bungee, so if your dog gets a bit ahead of you it will not jerk them.
Police / Training Hands Free Leashes
The other hands free option some people like is this Leerburg "police leash". It's a super high quality Amish leather leash that looks like this: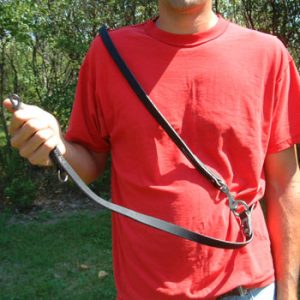 You can grab that on Amazon here at our affiliate link below. Rest assured, these are some of the finest leashes made and sold in the USA: