Currently, the highest rated, USA built, food grade, dry dog food storage containers are Gamma2's "Vittles Vault" and IRIS USA's "Airtight Pet Food Container" .
Dog food containers keep moisture out of food, keep food fresh, keep mice and other pests out of food. A quality kibble dog food container keeps kibble smells contained in the container.
Here are the highest rated dry dog food containers:
The Airtight, Stackable Vittles Vault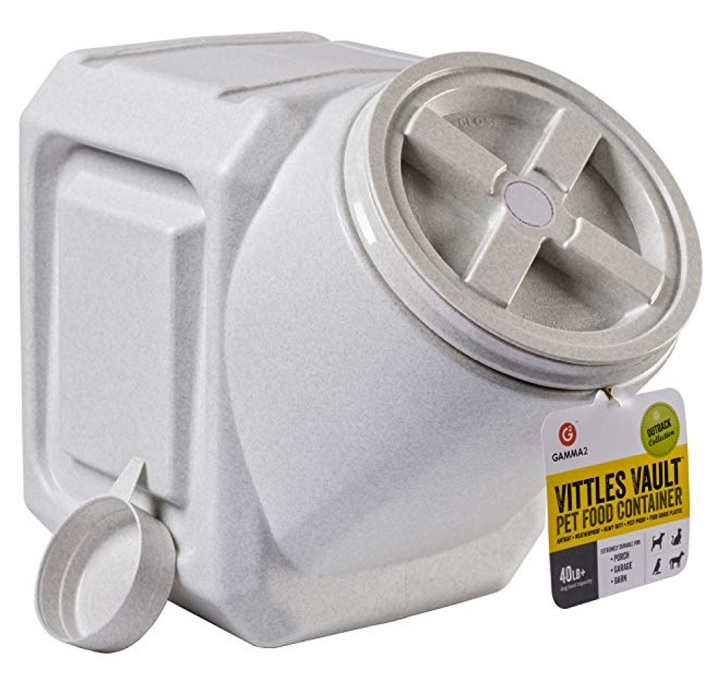 Our personal choice
FDA approved Food Grade plastic
40lb capacity
Dog proof
The Iris 3-Piece Food Container Combo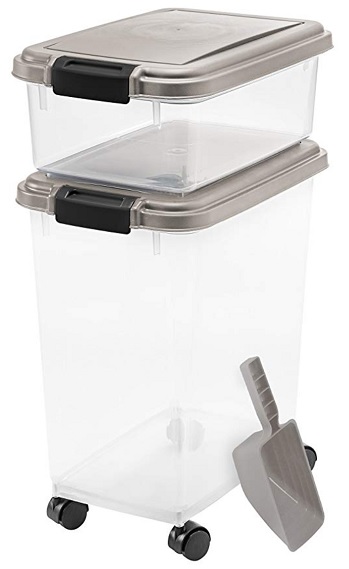 Cheap
Holds up to 35lbs total
BPA free plastic
Some say it is not air tight
1. The Vittles Vault Airtight Stackable Food Container
I discovered the Gamma2 Vittles Vault at a local pet store. While I usually support local businesses, the Vittles Vault was $50 at the store and only $31.45 delivered via Amazon Prime. So, I admit, I checked out on Amazon while standing there at the pet store. I didn't need a new container immediately as I already had a container. The previous dog food container was cheap junk that I purchased one day at a big box store. I couldn't live without the Vittles Vault after discovering it was Made In USA and built out of food grade plastic, meaning that it isn't going to absorb the dog food smell like other cheaper, Chinese made containers; in fact, it is FDA-compliant, food-grade polyethylene.



2. The Iris 3-Piece Airtight Food Container Combo
This unit is only $20 and has wheels. However, if you have a dog who likes to break into containers, you may want to look at the vault. Nearly 10,000 people have positively reviewed this unit on Amazon; people like that it is BPA free plastic and has two separate containers. Some people say their wheels do not turn and complain that it is not air tight and that food and treats are drying out.


Do You Really Need a Dog Food Container?
In addition to keeping dog food safe and fresh, according to many dog food manufacturers, food degrades faster as it is exposed to air, light, warm temperatures and humidity speeds up the rate at which foods degrade. If you live in the country like we do, there is always a risk of insects and rodents, and many rodents will indeed make your dog very sick. Some dog food bags are resealable, and these are adequate to keep food fresh. Most dog food manufacturers recommend that kibble be consumed within 6 weeks of being opened.