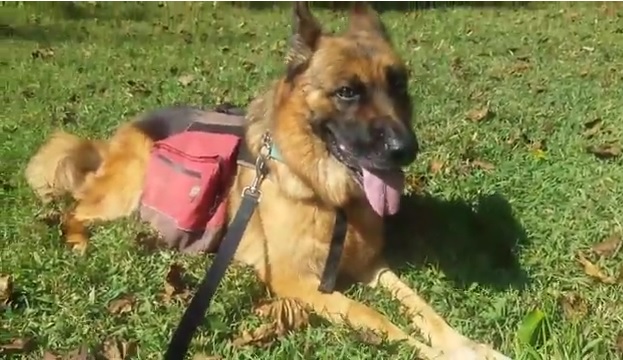 German Shepherd Dogs love carrying light loads in backpacks and can carry your items for you. Most people agree that backpacks should distribute weight over the shoulders. Backpacks provide shepherds with something to do and give them a sense of responsibility and accomplishment.

Qualities of backpacks for German Shepherd Dogs
A good backpack can carry some water for your dog, a life straw for a hiker and is great for people who take their dog on walks or hiking.
A Good backpack:
Does not restrict your German Shepherd Dog's movements
Distributes weight evenly
Has detachable pockets (if desired)
Do's and Don'ts:
Do not place weight in the middle of the back. They are not built like horses.
Do not place 25% of of a dog's weight in the backpack. This is significantly more weight than most shepherds can handle. Other websites stating 25% are incorrect.
Do not place unnecessary weight on a puppy's joints. Many people wait until the dog is 18-24mos old.
Do introduce the pack to your dog slowly if needed.
Measuring girth
When ordering any backpack you will need to know your German Shepherd's girth. To measure this, use a measuring tape to go all around the body at the largest point of the rib cage.
Best Backpacks for German Shepherds
In the YouTube video I show a basic, cheap backpack that I obtained at PetSmart for $20 or something. It is fine for light loads such as holding treats. But I will soon replace it. After speaking to several dog owners or labs and shepherds and scouring online reviews, I have concluded there are a few amazing backpacks out there for German Shepherds.
1. The Ruffwear Pallisades Multi-Day Backcountry Pack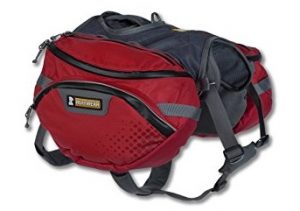 This pack retails for $149, but you can get it for under $100 on Amazon, and even less if you shop around or wait for a deal although I have a hard time resisting Prime items arriving at my house in 48hrs. As for size, the "Medium" size works best for most German Shepherds, even 85lb males, as it covers dogs with up to a 36″ girth. You'll notice the large backpack starts at 32″, however the medium will fit dogs 36″ and under best.
Features include:
(2) Collapsible, 1 liter, BPA-free water bottles.
A padded handle, and a secure leash attachment V-ring (there are 4 places to attach a leash)
Removable saddlebags –

Easily remove the saddlebags from the pack to lighten your dog's load and give him more freedom of movement at rest stops or for water crossings.
You should note that this pack was redesigned in 2017, but the pack listed above has thousands of reviews and is excellent. Go here for the 2017 edition.
2. The Ruffwear Approach Full-Day Hiking Pack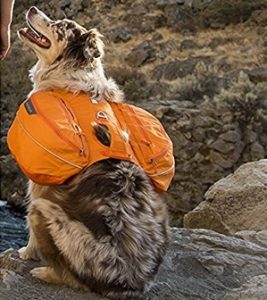 This saddlebag style dog backpack features a weight forward design, keeping weight off of your baby's back. These packs have significantly more capacity than most other backpacks on the market. If you are going hiking for a couple of days and your canine is used to carrying this much stuff around, lots of German Shepherd Dog lovers use this pack.
Buy the Ruffwear Approach on Amazon here.
The all new 2017 edition comes in "meadow green" and "orange poppy"
3. Outward Hound's Daypack Dog Backpack
This backback is under $20 delivered via Amazon Prime.
Where else do you need to know? Buy it on Amazon here.