The best pinch collar for a German Shepherd Dog is Herm Sprenger Pinch Collar. Herm Sprenger patented the collar in the 1800s and they're loved by dogs and used by trainers worldwide.
Herm Sprenger collars are German engineered, made in Germany, chrome plated, and the rounded blunt ends are soft to the touch.
These are the two Pinch collars (aka pronged collars) that I use on my German Shepherd:
1. The Herm Sprenger Ultra-Plus Training Collar
Buy this collar on Amazon here. Coming in at only $19 and featuring a lifetime warranty, the chrome plated, corrosion resistant pinch collar could be the best collar in the world. This is the size collar I use on my 75lb female Shepherds.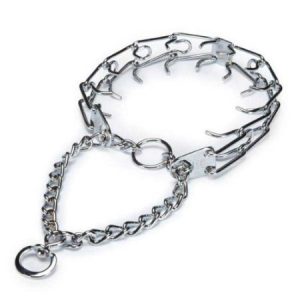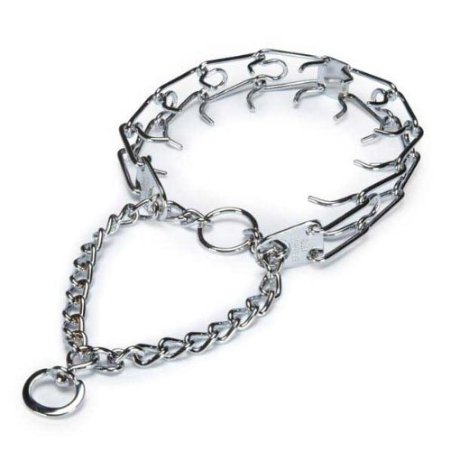 2. The Herm Sprenger with Quick Release
Buy this collar on Amazon here. I now use this $25 collar as it has a quick release making it easy to put on and take off of your German Shepherd Dog.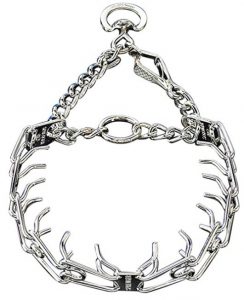 Do pinch collars hurt your dog?
No, but, a pinch collar should only be used when walking or training your dog. You MUST take it off after each and every use.
Feel free to read about my first experience with one of these collars and how my dog immediately quit pulling on her leash and became extremely calm with her collar on. That's right, a pinch collar cured her anxiety of fireworks and noises!
The pinch collar was the nicest things I've ever gotten for my totally spoiled German Shepherds and there is absolutely no pain inflicted on my dog at any time.
Sizing your pronged collar
Proper fitting of the collar is extremely important or it just won't work right. The pinch collar must sit at the bottom of the dog's skull. This video I made below explains better than I can here:

While the collars fit my Shepherd just right, you should measure your Shepherd's neck and order additional links if needed. Or, just order the collar and if it is too small buy additional links online. However, the collars listed above worked great for me. In fact I had to remove links to use the collar properly.